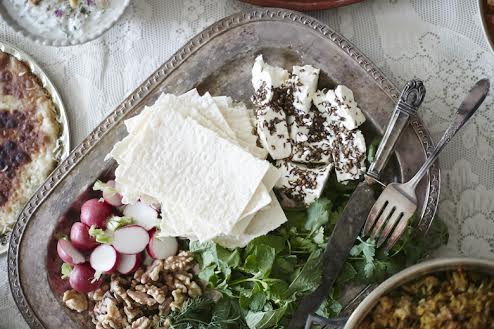 Starting Monday, September 15, chef Louisa Shafia, author of the award-winning cookbook The New Persian Kitchen, will hold a weekly Monday night pop-up in Porsena restaurant's 18-seat wine bar, Porsena Extra Bar. The idea behind Lakh Lakh is to give people a taste of regional Iranian dishes, most of which can't be found on Persian restaurant menus in the U.S. Lakh Lakh Polo, for which the pop-up is named, is a rice dish made with fish, tamarind and hot chilies, a specialty of the Persian Gulf city Bushehr, where seafood is plentiful.
Shafia took a long-awaited trip to Iran this year, where she cooked with family and friends, and traveled the country tasting regional foods. For the pop-up, she'll prepare dishes from across Iran, from the spicy Indian and African flavors in the Gulf to the hearty Turkish and Russian dishes in Iranian Azerbaijan to the tart, fruity cuisine of the verdant Caspian Sea area.
The menu will feature small plates between $5 and $7, and will update continuously throughout the fall. Below is the menu for the first Monday of the pop-up. We look forward to hearing from you. You may contact Louisa directly at louisa@lucidfood.com.
Menu (all items $5–$7)
• Sambuseh, crispy phyllo triangles stuffed with vegetables and mild white cheese, with spicy relish, nigella seeds
• Aloo mosama, chicken cooked with apricots and salty plums
• Gondy, aka "Persian matzo balls," made from ground chicken and chickpea flour, in chicken broth with dried limes
• Kufteh Tabrizi, Tabriz-style lamb meatballs stuffed with caramelized onions, prunes, walnuts
• Lakh Lakh Polo, tamarind rice with fish or vegetables, chilies, coriander
• Kebab-e Torsh, lamb kebabs in sour pomegranate walnut marinade
• Mast-o khiar cucumber yogurt, and sabzi khordan herb and cheese platter