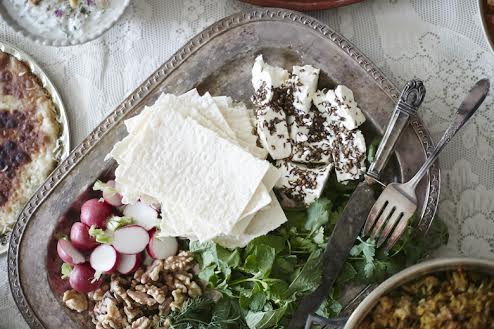 Starting Monday September 15, Chef Louisa Shafia, author of the award-winning cookbook The New Persian Kitchen, will hold a weekly Monday night pop-up in Porsena restaurant's 18-seat wine bar, Porsena Extra Bar.The idea behind Lakh Lakh is to give people a taste of regional Iranian dishes, most of which can't be found on Persian restaurant menus in the US. Lakh Lakh Polo, for which the pop-up is named, is a rice dish made with fish, tamarind, and hot chiles, a specialty of the Persian Gulf city Bushehr, where seafood is plentiful.
Shafia took a long-awaited trip to Iran this year, where she cooked with family and friends, and traveled the country tasting regional foods. For the pop-up, she'll prepare dishes from across Iran, from the spicy Indian and African flavors in the Gulf, to the hearty Turkish and Russian dishes in Iranian Azerbaijan, to the tart, fruity cuisine of the verdant Caspian Sea area.
The menu will feature small plates between $5-$7, and will update continuously throughout the fall. You may contact Louisa directly at louisa@lucidfood.com.