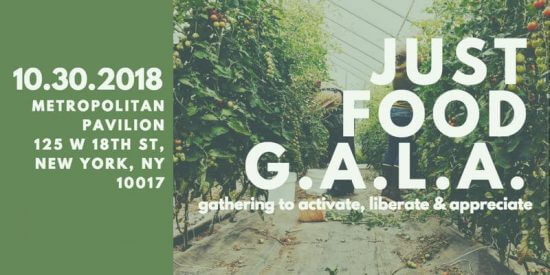 From our organizers:
Welcome to the Just Food G.A.L.A.
This is not your average big-ticket, big-name fundraiser "gala." This is a kind of anti-gala. Our kind of G.A.L.A.: a gathering to activate, liberate, and appreciate; that aims to both build community and raise money to support Just Food's ongoing work in pursuit of a more equitable food system.
How?
We're rebooting our old fall fundraiser and tackling a tried-and-true format — the walk-around, tasting benefit — by centering folks who share our belief that growing, cooking and sharing food is an act of justice. We're honored to be highlighting more than 30 queer, of color and ally chefs, culinary artists, and good food businesses we love, many working outside and around the traditional restaurant system.
These are folks inspired by locality and seasonality, who are engaged in transformative work in their communities through food; and who are making some of the most delicious, thought-provoking food and drink in New York City.
We're introducing tiered pricing, with a select number of tickets starting at $65. This is the time for us to show up and build power together. If you are able to contribute at a higher level, please do — we deeply appreciate your support of this work. The G.A.L.A. is Just Food's major public fundraiser for the work we do year-round.
In past years, we called our annual fundraiser Let Us Eat Local. This year, we say, Let's redefine local. Does local mean grown within a certain distance of New York City, or grown in the community gardens and farms of the city itself? Does local mean food made here, but with flavors, cultural ties and ancestral knowledge from elsewhere? Does it mean building with and lifting up culinary artists who are often not the focus of traditional, high-profile food events?
We are also working hard to source from Just Food's regional and hyper local growers and producers. We want to further showcase the bounty and variety of our community as well as the ongoing efforts of Just Food to support a local solidarity economy.
We're saying YES to all of the above, a resounding yes that is celebratory and unapologetic. So please join us, as we celebrate — and activate, liberate, appreciate — Tuesday, October 30th at Metropolitan Pavilion.
All tickets include general admission to the main event: a tasting featuring more than 30 of today's most exciting food and drink makers, serving everything from seasonal Caribbean and Cambodian food, to desserts made with direct-trade spices, artisan breads, cross-cultural collaborations, and much more — all accompanied by tunes from DJ Rimarkable.