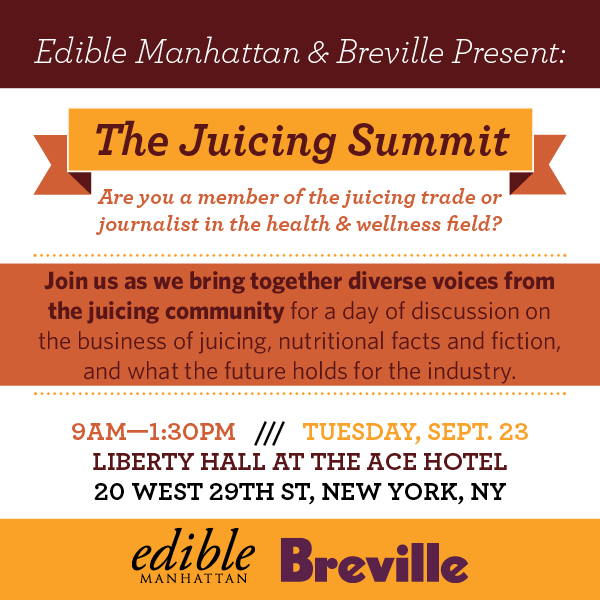 Are you a member of the juicing trade or journalist in the health and wellness field? Join us as we bring together diverse voices from the juicing community for a day of discussion on the business of juicing, nutritional facts and fiction and what the future hold for the industry.
In between panels there will be food and, of course, juice. Food will be provided by The Breslin.
9:00 – 9:30 AM: Healthy breakfast and juice bar
9:30 – 10:30 AM: The Business of Juicing: Moderated by Jen Wieczner (Fortune Magazine); Panelists: Martin Bates (Organic Avenue), Karliin Brooks (The Squeeze), Maury Rubin (City Bakery)
10:30 – 10:45 AM: Juice break
10:45 – 11:45 AM: Juicing: Facts & Fiction: Moderated by Lisa Merkle (Lisa Merkle Event Production + Lifestyle Design); Panelists: Marcus Antebi (Juice Press), Dr. Richard Ash, M.D. (The Ash Center for Comprehensive Medicine and WellNEST), Dana James (Food Coach), Isabel Smith, MS RD CDN
11:45 AM – 12:30 PM: Lunch
12:30 – 1:30 PM: New Trends and the Future of Juicing: Moderated by Lisa Elaine Held (Well + Good); Panelists: Joe Cross (Reboot with Joe), Max Goldberg (Living Maxwell), Latham Thomas (Mama Glow)
E-mail sophia@firstpresspr.com to receive the promotional code to enter below for tickets.