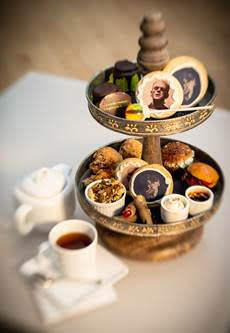 From our organizers:
There are only a few more weeks left to check out The Morgan Library & Museum's thrilling and thought-provoking exhibition, It's Alive! Frankenstein at 200, which celebrates the 200th anniversary of Mary Shelley's Frankenstein… but not many people are aware that the Morgan Café is also offering an eye-popping Frankenstein-inspired afternoon tea service as well.
Like the exhibit, which explores the two different sides of Dr. Frankenstein's monster – the gothic yet compassionate figure from the novel, and the cinematic yet fearsome creature as seen in Hollywood – the afternoon tea also pays homage to the dual images. Each tea tier represents the different portrayals, featuring riffs on classic tea sandwiches, scones and sweets. With menu items like bloody marzipan fingers, an "ocular" lollipop, chokeberry scones and more, it's easily NYC's most intriguing afternoon tea yet.
Reservations: 212.684.0008 ext. 590
Tuesday–Thursday 11 a.m. to 4 p.m. (Cookies and beverages 3–4 p.m.)
Friday 11 a.m. to 8 p.m.
Saturday–Sunday 11 a.m. to 4 p.m.