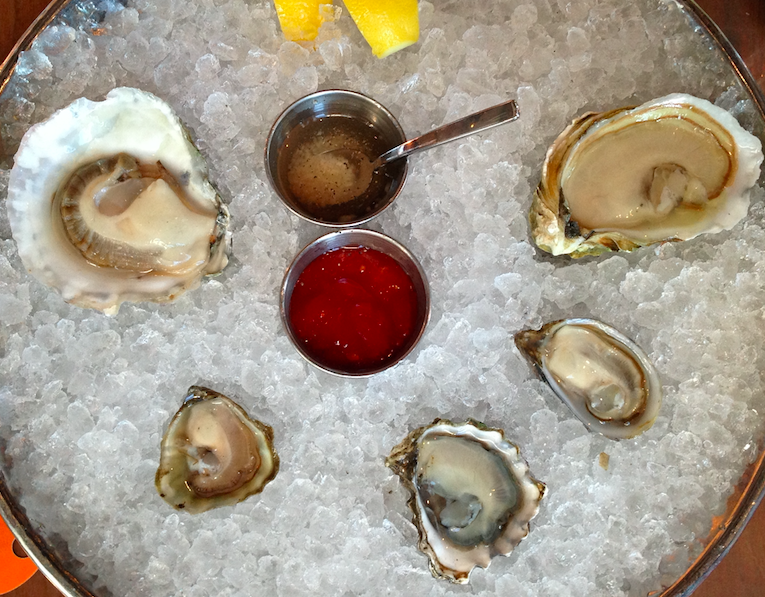 According to the organizers:
A GRAND SHELLEBRATION
For International Oyster Day this year The OysterHood & The Barclay have partnered to offer NYC foodies & gourmands a rare opportunity to experience all 5 OYSTER SPECIES paired with 5 PREMIUM LIBATIONS paired with 5 SHORT FILMS about oysters, seafood & those who grow or harvest them.
EVENT FEATURES
ALL 5 OYSTER SPECIES* PAIRED WITH & 5 PREMIUM LIBATIONS
This never happens! But it does on International Oyster Day in New York City. On this day we'll present all 5 species with 10 varieties of oysters from 5 states, 3 provinces and 2 nations. Each oyster will be paired with a specific type of beverage. Beer, Wine, Spirit, Sake & Cider are the 5 libations we'll feature. The Oyster & Libation Pairings look like this:
1. Crassostrea VIRGINICA (East Coast)
VARIETIES: Empire (NY), Atalntic Emeralds, (NC), Beau Soleil (NB), Irish Point (PEI)
2. Crassostrea GIGAS (West Coast)
VARIETIES: Purple Mountain (WA), Kusshi (WA), Shigoku (WA)
3. Crassostrea SIKAMEA (West Coast)
PAIRED WITH SAKE: Brand to be announced soon
4. Ostrea LURIDA (West Coast)
5. Ostrea EDULIS (East Coast)
BONUS PAIRING: CHAMPAGNE & SCALLOPS*
FEATURED SCALLOP: Whole, Live PECONIC BAY SCALLOPSshucked live, served raw, on the half shell.
ALSO ON OFFER…
+ PASSED COMPOSED OYSTER & SCALLOP DISHES
by Executive Chef Willis Loughhead featuring Peconic Bay Scallops & Atlantic Emerald™ Oysters
+ BOWMORE PEARLS & ACCOUTRMEMENT PRIMIER™ 
by Master Mermmelier Kevin Joseph. There's nothing cooler for oysters. Learn more here: http://bitly.com/SpiritedPearls
+ BOWMORE LUGE
by Bowmore Ambassador Asa Scott. One of the best ways to enjoy oysters!
PLUS…5 SHORT FOOD FILMS
Bowmore Whisky presents The 2nd Annual Bivalve Film Festival @ International Oyster Day! During the event we'll be screening various short films about oysters, scallops and the people who produce them.
+ The Oyster Divers of Long Island by Peter Crosby @ Bullrush Films
+ The Men of Oysterponds  by Peter Crosby @ Bullrush Films
+ The Peconic Bay Scallop Harvest by Peter Crosby @ Bullrush Films
+ ClammerHead's Green Gills by Peter Crosby @ Bullrush Films
+ SURPRISE FILM: To Be Announced @ The Event