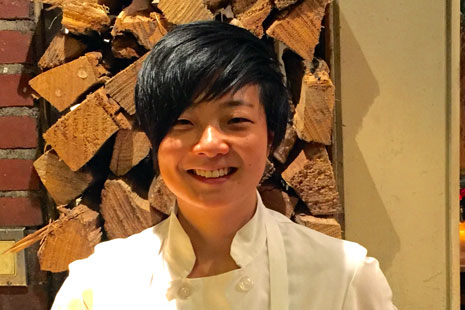 According to the organizers:
"After earning a liberal arts degree in English literature in 2008, Hannah spent her post-graduate year on a Fulbright scholarship teaching in Asia. She spent most of her free time eating her way through places such as Hong Kong, Penang, and Chiang Mai. Returning to the memories of the food eventually inspired her to leave her career in publishing, and pursue a culinary arts degree at Johnson & Wales. Since then, she has worked at db bistro moderne under Chef Daniel Boulud, the beloved now defunct restaurant Gwynnett St. in Brooklyn and as the sous chef at Haven's Kitchen. She currently works at Gramercy Tavern, which is run by James Beard-award winning Executive Chef Mike Anthony.
For her Incubator Project Supper, she is presenting a five-course dinner that is inspired by bold, international flavors, seasonal ingredients, and from an array of aesthetic influences that are artistic, rustic, and refined.

Menu
cauliflower
sultanas/dukkah/fermented chili and buttermilk sauce
beef tartare
sweet potato/watercress/chinese black beans
kabocha squash gnocchi
black trumpets/brussels sprouts/smoked pork and mushroom broth
muscovy duck breast
winter vegetables/black lime/duck fat and date vinaigrette
southeast asian fruit salad
coconut tapioca/thai basil/tangerine granita
Menus is subject to change at the discretion of the chef.
Multi-Course Dinner • BYOB
What is Incubator Project?
The Incubator Project is an informal residency at Haven's Kitchen for mid-career professionals in the food and hospitality industry. Our goal is to provide Incubator Project residents an array of resources to flex their creativity and test out ideas.
Haven's Kitchen is a business devoted to education about food and sustainability. The Incubator Project was created to further enhance this mission.
The first iteration of this project will be a series of supper clubs hosted by talented cooks, who have worked under esteemed chefs and served as instrumental players at critically acclaimed restaurants around the U.S. and the world.
All ticket sales are final. Cancellations 72 hours before the scheduled event are eligible for a Haven's Kitchen credit of the full purchase value.