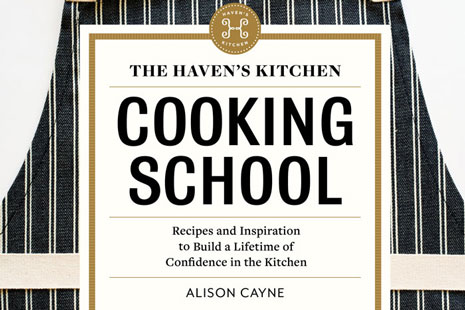 According to the organizers:
At Haven's Kitchen, we aim to reconnect our students with the pride and pleasure of making a meal. In celebration of our new cookbook, The Haven's Kitchen Teaching School, this series takes the important lessons we've learned from the 5 years in running a cooking school such as good sourcing, flavor balance, kitchen skills, and meal composition while emphasizing the love and intention that goes into good cooking.
Students will receive a free copy of The Haven's Kitchen Cooking School and tote with the purchase of the series.
Classes can be purchased individually or as a series.
Lesson in Mise en Place & Balance: Fritters and Sauce – Tue, Apr 18 at 7pm
Lesson in Composition & Layering Flavors: Soups and Salads – Tue, Apr 25 at 7pm
Lesson in Timing & Purpose: Eggs & Grains – Tue, May 2 at 7pm
Lesson in Heat and Seasonality: Vegetable and Protein – Tue, May 9 at 7pm
Final Chapter: Dinner Party – Tues, May 16 at 7pm
Curriculum is subject to revision. We do our best to accommodate dietary restrictions. Please contact us at info@havenskitchen.com or at 212.929.7900 x4 to confirm if the curriculum can be revised to your diet. All class sales are final. Students must cancel at least 72 hours before the scheduled class to receive a Haven's Kitchen credit of the full purchase value. More information on our class policy can be found here.
All classes are hands-on and end with a seated meal unless otherwise stated. Wine is served in class.