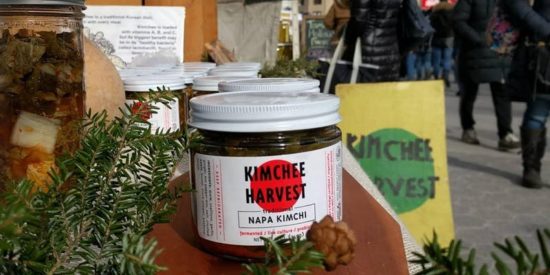 From our organizers:
Join Greenmarket producer, Kimchee Harvest, for a kimchi making workshop. Attendees will hear a bit about the history and cultural relevance of kimchi, learn how to make two types of kimchi, and take home a quart of each type.
Attendees must bring their own apron and a way to contain their hair.
About Kimchee Harvest/East Branch Farms
The vegetables, herbs and fruit at East Branch Farms are grown in the East Branch River valley, Northwest Catskills, approx 1600′. Over 360 million years ago the Catskills region was an inland sea and site of a devonian forest. The ancient soils were first cultivated by the Lenni Lenape women, growing corn, beans and squash.
Today the landscape is a diverse patchwork of small farms, fields and forests where a delicious variety of food is produced. Diversity is high on the value chain here with multiple enterprises including The Straight Out of the Ground CSA, Kimchee Harvest LLC, produce grown for farmers markets, produce grown for local and NYC restaurants and our little farmstand.