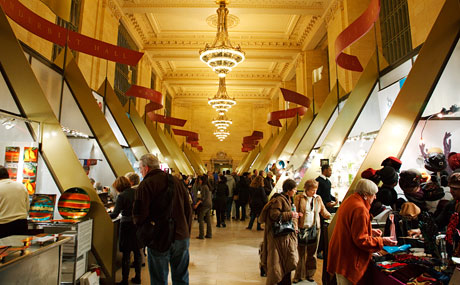 According to the organizers:
NOV 14 – DEC 24, 2016
MON – FRI 10AM – 8PM
SAT 10AM – 7PM
SUN 11AM – 6PM
VANDERBILT HALL
While hunting for the perfect holiday gift, it's easy to become 'hangry' in the midst of the shopping madness. However, with this year's redesign of the Grand Central Terminal Holiday Fair, paired with critically acclaimed Great Northern Food Hall just across the way, shoppers can find comfort in being able to browse and eat at the same time. Or, as Constance Breslin, Grand Central Holiday Fair Merchandising Manager, explains, "Vanderbilt Hall has transformed into a holiday village. With the Great Northern Food Hall on one end, you can now keep shopping while you park your husbands on the other side of the hall so everyone is happy!"
This year's Holiday Fair highlights 40 artisans selling gifts from luxury home goods, fine handmade jewelry and whimsical gifts for loved ones of all ages on the east side of the hall, but now shoppers can nosh at one of the four Nordic-inspired food pavilions at Great Northern Food Hall and continue shopping. In addition to their daily confections, Great Northern Food Hall has built three holiday stalls where shoppers can buy unique items, including traditional Nordic knitwear, holiday ornaments and ceramics, as well as imported specialty food products. For those looking for a more formal sit-down dining option to take a break from shopping, the entrance to the recently Michelin star-rated Agern is also in Vanderbilt Hall.