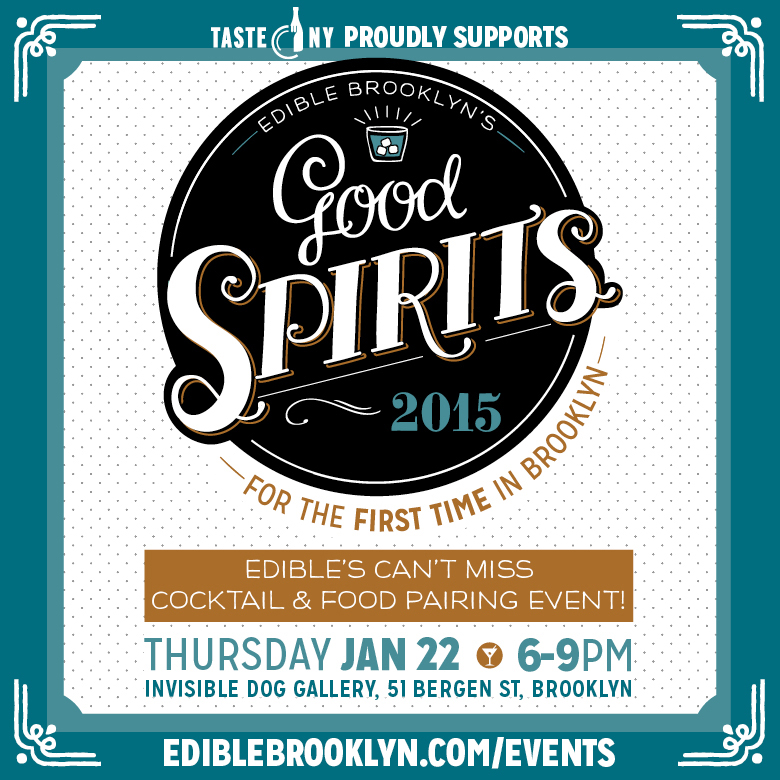 It's time to raise a glass to delicious local food and spirits!
Mirrored after one of Edible Manhattan's most successful events, Good Spirits Manhattan, Good Spirits Brooklyn will pair acclaimed spirits brands with celebrated local restaurants for an unforgettable evening.  The event will take place on Thursday, January 22 at The Invisible Dog Art Center: an 1800s factory building nestled in Cobble Hill.
Good Spirits 2014 from Edible Manhattan on Vimeo.
Featuring…
James; Duncan's Burgers @ The Rookery; Taco Santo; Fort Defiance, Post Office, Don Julio, Whole Foods Market; North East Foodshed Finance Alliance; Brooklyn Baked and Fried; Bruce Cost Ginger Ale; New York State Distillers Guild featuring Astoria Distilling; Barrow's Intense; Black Button Distilling; Black Dirt Distillery; Breuckelen Distilling Company Inc.; Brooklyn Spirits LLC; Catskill Distilling Company; Denning's Point Distillery; Finger Lakes Distilling; Jack from Brooklyn; Kings County Distillery; Long Island Spirits; New York Distilling Company; Port Morris Distillery; Springbrook Hollow Farm Distillery; StilltheOne Distillery; The Noble Experiment NYC; Van Brunt Stillhouse, Char No. 4; French Louie; Hamilton's; Tuthilltown, Proof of Concept, LLC., TasteNY, Tutu's, Angry Orchard Hard Cider; Coney Island Brewing Company; Curious Traveler Lemon Shandy; Samuel Adams
Stay tuned for a complete line-up!
All sales are final, non-refundable and non-transferable. Food and drink are subject to availability and subject to change. Must be 21+ with valid ID to attend this event.