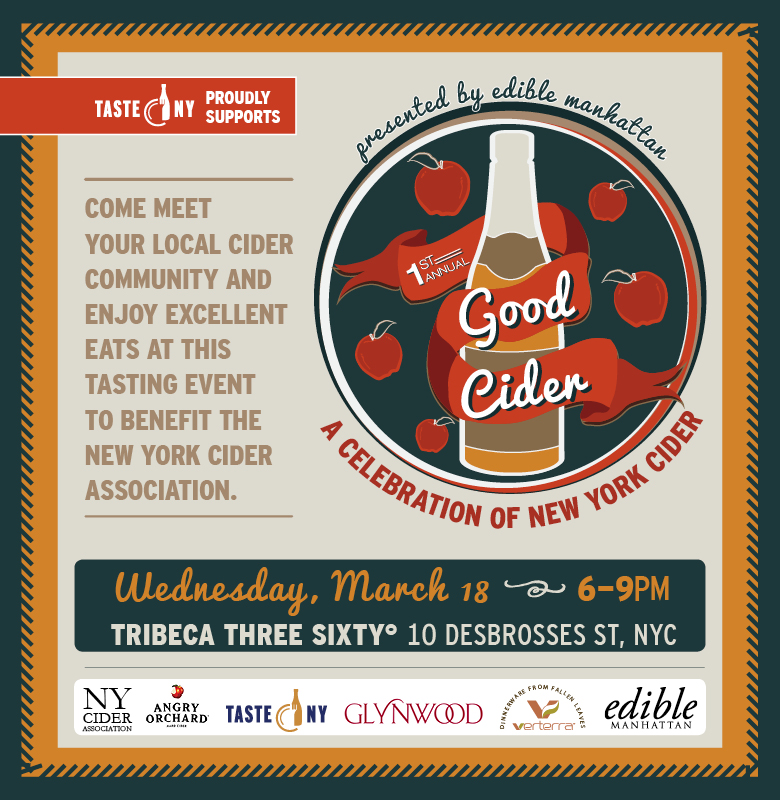 Join us for our first ever Good Cider event! Featuring cider, food and more from…
Black Diamond Ciders; Indian Ladder Farmstead Brewery and Cidery; Descendant Cider Co.; Eve's Cidery; Awestruck Premoum Hard Ciders; Hudson Valley Farmhouse Cider; Mckenzie's; Naked Flock Cider; Nine Pin Cider Works; Orchard Hill Cider Mill; Slyboro Ciderhouse; South Hill Cider; The Standard Cider Co. from Brotherhood; Wölffer Estate Vineyard; Gramercy Tavern; Wassail; Doc's Draft Hard Cider; Untamed Sandwiches; Rumor Mill Hard Cider; Jimmy's no. 43; Bellwether Hard Cider; Finger Lakes Cider House at Good Life Farm; Redbyrd Orchard Cider; Bad Seed Cider; 1911 Cider; Pazzi's Pasta; Cliffton Dry; Paulaner; The Cleaver Co. and The Green Table; Green Mountain Energy; VerTerra; Glynwood; Aaron Burr: The Cidery; Yankee Folly Cidery; Dekalb Restaurant; Badass Hard Cider; Harvest Moon Cidery at Critz Farms; Blackduck Cidery; Dig Inn Seasonal Market; Cider Tree (Hazlitt Winery)
Cider will be on sale at the event, so you can plan on taking home a bottle of your new (and old) favorites! 
Join in the conversation on social media by using the hash tag #GoodCider
All sales are final, non-refundable and non-transferable. Food and drink are subject to availability and subject to change. Must be 21+ with valid ID to attend this event.