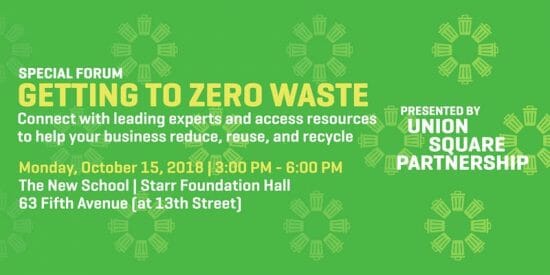 From our organizers:
Each year we inch closer to the City's goal of reaching zero waste to landfill by 2030. Businesses of all shapes and sizes are on the front lines of testing and scaling approaches to reduce, reuse, and recycle waste. Many Union Square businesses are already demonstrating that it's possible to reduce wasted materials, donate surplus food, improve waste station signage to nudge behaviors, and empower customers to reduce their waste footprint without disrupting operations or profits.
Now we want to help all businesses and organizations in the Union Square – 14th Street district take the next step. Getting to Zero Waste – the Union Square Partnership's first-ever forum on waste reduction – aims to provide all attendees with the practical knowledge, resources, and relationships required to move toward zero waste. Confirmed speakers include: Gadi Peleg, Owner of Breads Bakery; Erik Eibert, Assistant Director of Sustainable Initiatives at The New School; Muriel Poure, Facilities Services Specialist at Eileen Fisher; Ushma Mehta, Co-Founder of ThinkZero; Christina Grace, CEO and Founder of Foodprint Group; Taylor Lanzet, Director of Supply & Sustainability of Dig Inn; Kelly Jacques, Operations Manager at Breads Bakery; Timothy Meyers, Executive Chef of Bocce Union Square, and more.
At Getting to Zero Waste, join experts from local businesses, institutions, consultancies, and more who will share their insights on how to reduce waste in offices, eateries, and retail settings, comply with the City's recycling and organics rules, and engage customers, staff, and vendors. Solutions providers will be available to help attendees explore waste measurement, collection, disposal, and procurement solutions.
Registered attendees can also learn how to participate in the Union Square Partnership's new program to offer small and mid-sized organizations a free waste audit, as well as other Zero Waste initiatives the Partnership is undertaking.
Tickets to Getting to Zero Waste are $10 (plus processing fee). All proceeds from the Forum will be used to support the Union Square Partnership's sustainability programming.