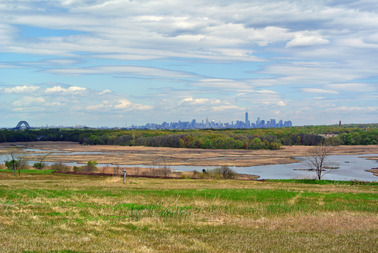 According to the event organizers:
"The ongoing development of Freshkills Park is one of the most ambitious public works projects in the history of New York City, using state of the art ecological restoration techniques in an extraordinary setting for recreation, public art, and environmental investigation.
At 2,200 acres, Freshkills Park will be almost three times the size of Central Park, thelargest park developed in New York City in over 100 years, and the largest conversion of a former landfill to a public park in the country.
We'll discuss the urban ecology of the site, both before and during landfill operations, since the landfill's closing, and into the future. The former piles of municipal solid waste are being transformed into grasslands with a resurgence of grassland bird species now taking advantage of the park; the creeks are home to fish and mussels, and provide resiliency in the face of storm flooding; researchers are studying the bird, bat, and turtle populations; and new forests are being planted with tree species that remediate the soils.
Come learn about an ecological haven within NYC that you probably didn't know existed."