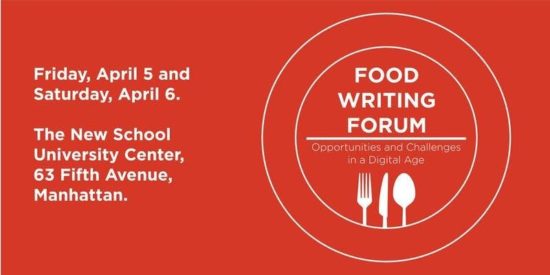 From our organizers:
Food Writing Forum: Opportunities and Challenges in a Digital Age
The food writing craft is in transition from the traditional world of magazines, newspapers, and cookbooks in print, to the digital world of food blogs, digital books, websites, online restaurant reviewing, memoirs, recipes, food photography and the influence of social networks. If observers and technologists are to be believed, many more changes are soon to come. Top food writers will examine the positive and negative food writing trends in the digital age.
*PLEASE NOTE that your ticket includes admission to both days.
---
TENTATIVE schedule:
FRIDAY, April 5th
9:30am-10:00am
Registration
10:00am-11:00am
Plenary Session
11:00am-11:15am / Break
11:15am-12:30pm
How to Write a Cookbook (Rozanne Gold, Dorie Greenspan, Ruth Gresser, June Hersh, Priya Krishna, Julia Turshen)
Social Media and Online Media (Fabio Parasecoli, Scott Barton, Aaron Hutcherson, Marion Nestle, Stephen Schmidt, Rosie Nelson)
12:30pm-1:30pm
Lunch Break
1:30pm-2:45pm
Newspaper and Magazines in the Digital Age (Ariel Lauren Wilson, Andy Baraghani, Kate Cox, Erica Marcus, Emily Weinstein, Gabriella Gershenson)
Blogs and Websites: Framing and Maintaining Purpose (Anne Mendelson, Ken Albala, Dave Cook, Deb Perelman, Joanna Sciarrino)
2:45pm-3:00pm
Break
3:00pm-4:15pm
Restaurant Criticism in a New Age (Andrew Friedman, Hannah Goldfield, Adam Platt, Hanna Raskin, Chris Stang)
Whose Recipe Is It? Intellectual Property & Provenance (Cathy Kaufman, Rozanne Gold, Sara Moulton, Peter E. Nussbaum, Kara Rota, Tanya Steel)
Today's Cookbook Publishing Process: Digital Brass Tacks and Editorial Skills (Anne Mendelson, Suzanne Fass, Rux Martin, Michael Szczerban)
4:15pm-6:15pm
Reception
---
SATURDAY, April 6th
9:30am-10:00am
Registration
10:00am-11:15am
Food Memoir and Biography (Cara De Silva, Elissa Altman, Mark Federman, Madhur Jaffrey, Anne Mendelson, Laura Shapiro)
Cultivating Diversity on Pages and Screens (Scott Barton, Von Diaz, Peter J. Kim, Eric Kim, Korsha Wilson)
11:15am-11:30am
Break
11:30am-12:45pm
What Do Book Publishers Want? (Cathy K. Kaufman, Ken Albala, Andrew Friedman, Bruce Kraig, Andrew F. Smith)
Women's Words and Words About Women (Bettina Makalintal, Sara Franklin, Ramin Ghanesram, Sarah Khan, Elle Simone Scott)
12:45am-1:00pm
Break
1:00pm-2:15pm
The Dark Side of the Internet (Cara De Silva, Rebecca Federman, Stephen Schmidt, Andrew Smith, Lauren Swann)
Not Your Average Food Snapshot: The Art and Craft of Good Food Photography (Allie Wist, Victoria Granof, Jamie Tiampo, Justin Walker)