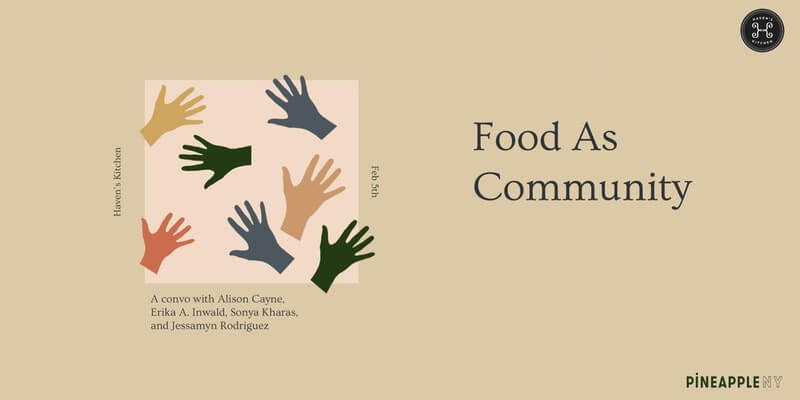 From the organizers:
Food is a great activator for women to connect and share with each other and develop and hone our voice. Women increasingly express themselves through food and community — whether that's curating your kitchen supplies, having friends over for a home-cooked meal, starting your own food business, farming, or writing.
Join pineapple collaborative, newly launched in NYC, for a conversation celebrating and exploring the powerful intersection of women, food, and community- and movement-building in New York City.
Led by Alison Cayne, the founder of Haven's Kitchen, a woman-owned cooking school and community rooted in the pleasure of cooking and eating, our panel will feature three NY-based leaders pioneering powerful food movements, Jessamyn Rodriguez, the founder and CEO of non-profit bakery Hot Bread Kitchen, Sonya Kharas, the program manager at The League of Kitchens, and Erika A. Inwald, national coordinator of the Domestic Fair Trade Association.
Whether you're looking to start your own movement or help us start ours, together we'll address finding and sustaining motivation, empowering others and building community where it's needed — all with delicious eats from women-owned restaurants on Caviar, drinks from Ramona, & snacks from Haven's Kitchen- to fuel the convo.
Details:
Date: Feb 5th 2018
Time: 6:30pm – 8:30pm
Location: Haven's Kitchen, 109 W 17th St, New York, NY 10011
Tickets: $20