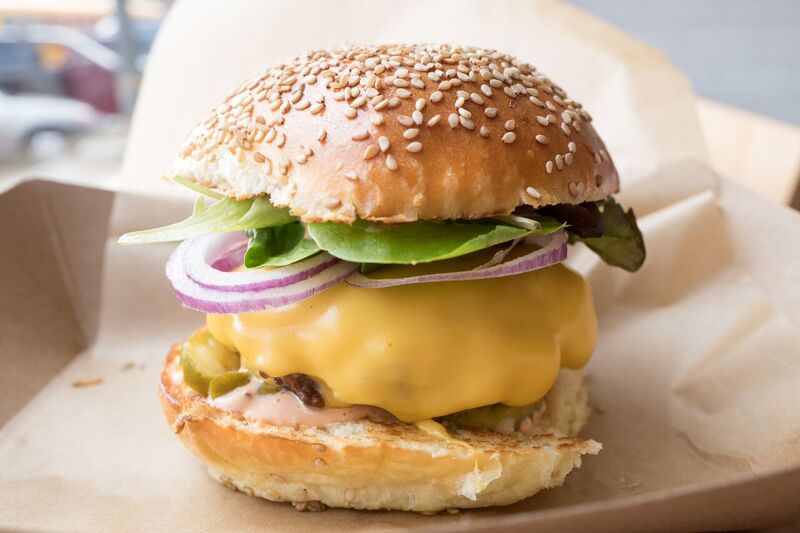 According to the organizers:
"Fleishers Craft Butchery, the butcher shop known for its sustainable, pasture-raised meats from NY farms, will be running a pop-up burger joint for one weekend ONLY, at the former Northern Spy Food Co. space in the East Village (511 E 12th St.) from Friday, April 15th through Sunday, April 17th. (Northern Spy Food Co. partner Christophe Hille is also CFO and an owner of Fleishers – hence the utilization of the NSFCo space for one last time.)
Fleishers' high quality, pasture-raised ground beef makes for incredibly flavorful, juicy burgers. (Several NYC restaurants renowned for their burgers including Emily and Grindhaus currently use Fleishers' ground beef.)
For this one-time-only burger pop-up, Fleishers will offer three different kinds of burgers: a classic burger; a 100% grass-fed burger; and a bacon, egg and cheeseburger. These burgers are inspired by Fleishers' burger counter menu at its newest shop in Greenwich, CT, and full-service shop-to-table restaurant at its shop in Westport, CT. Fleishers also currently has butcher shops in Park Slope and Kingston, NY, with a fifth location to open on the Upper East Side this summer.
And, these burgers are for a good cause: for every burger Fleishers sells at the pop-up, it is donating 6 oz of NY State pasture-raised beef to Trinity Lower East Side's "Service and Food for the Homeless" kitchen on East 9th and Ave B."
Menu
Classic American Burger $12: Classic blend of NY State pasture-raised beef with American cheese, special sauce, red onion and lettuce
100% Grass-fed Burger $13: NY State grass-fed beef with lettuce, tomato and onion
The Bacon Egg & Cheeseburger $15: Made from NY State pasture-raised beef & bacon blend, sunny fried egg, American cheese
Beef Fat Fries $6
Northern Spy's Famous Kale Salad $12
Beer, Wine and Brunch Cocktails will be available