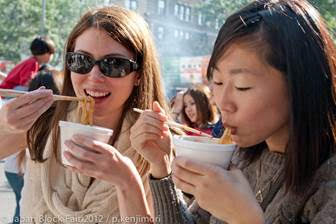 According to the organizers:
Explore an array of Japanese ramen styles at this tasting extravaganza, part of this fall's Japan Block Fair on the Upper West Side. Ramen shops hailing from New York, New Jersey, Pennsylvania and even Japan will go head to head to see who will be crowned the ultimate champion – as voted on by Fes attendees. All voting entries will qualify entrants to enter in a sweepstakes to win a round trip to Japan for two, as sponsored by Amnet, in collaboration with the Japan National Tourism Organization (JNTO) and American Airlines.
For the very first time, the competition welcomes two ramen shops from Japan, each representing distinct regional styles. 175 Deno, hailing from snowy Sapporo City, Hokkaido Prefecture, will bring their signature tantanmen (based on Chinese dandannoodles) – a heat-packed ramen made with sesame and their original chili oil, notorious for causing tongues to go numb from its spice levels. And from the south end of Japan, Menya Jiro of Ibusuki, Kagoshima Prefecture, will offer tonkotsu (pork bone broth) ramen – but instead of the traditional creamy, heavy tonkotsu style, their version will be a much lighter, refreshing take that still draws out rich flavors. Both shops are looking to potentially expand to the U.S. in the near future and this year's Ramen Contest will be an exclusive opportunity to get a first taste.
In addition to the Ramen Contest, Japan Block Fair will also offer numerous opportunities for attendees to try popular Japanese street food, such as takoyaki (fried octopus balls), okonomiyaki (Japanese savory pancakes), and mochi waffles, as well as purchase Japanese goods and products, including handmade crafts, "sushi pillows," and more.