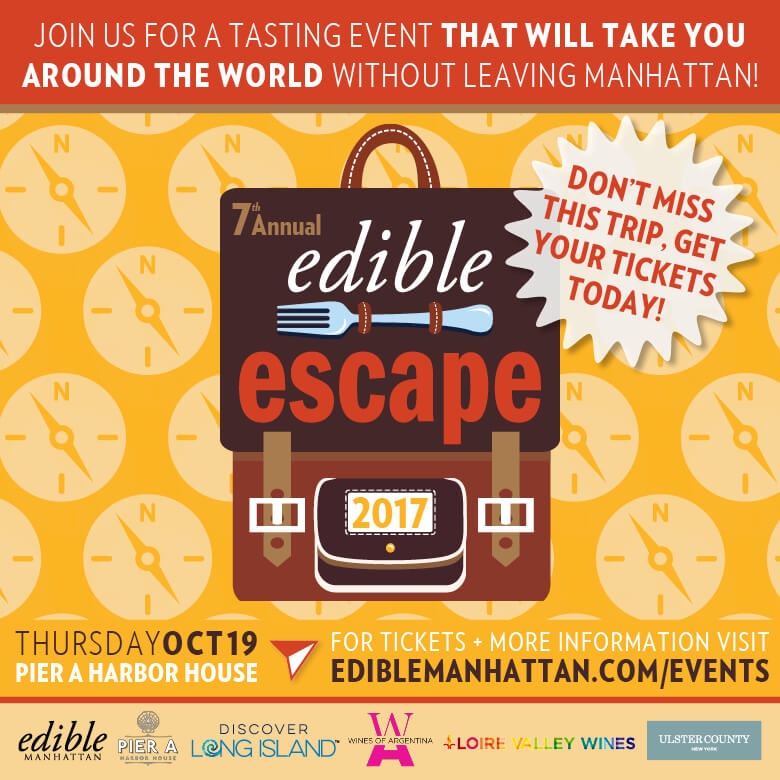 Join us as we sample some of the most flavorful, globally inspired food and drink prepared locally. Plus, we'll be highlighting local, national and international travel destinations to inspire your next trip. Check out the growing line-up:
Wölffer Estate Vineyard • Discover Long Island • Martha Clara Vineyards • Greenport Harbor Brewing Co. • Halifax Restaurant • T Shop • Môtô Spirits • Loire Valley Wines • Health-Ade Kombucha • Orwashers Bakery • Tea Drunk • Badshah Modern Indian Restaurant • Califia Farms • Chomp Chomp • Paulaner on Bowery • Beecher's Handmade Cheese • First and South • Italienne • Manousheh • Luzzo's • Ghost & Grits • Schilling • New York Cider featuring Brooklyn Cider House • Birds of a Feather • Hiro Sake • Wines of Argentina • Bruce Cost Ginger Ale • Balvanera  • Pier A Harbor House • The Tango Company • Tuthilltown Whiskey and Hudson Whiskey • Severan • Connor McGinn Studios • Insatiable EATS Catering and Event Specialists • Chopt Creative Salad Co. •
Join the conversation on social media | @EdibleManhattan | #EdibleEscape
For participation inquiries, please conact events[at]ediblemanhattan[dot]com.
For press inquiries, please contact Marissa Jacobs at marissa[at]metrorestaurantmarketing[dot]com.
All sales are final, non-refundable and non-transferable. Food and drink are subject to availability and subject to change. All food and drink is included in the ticket price. 
Must be 21+ with valid ID to attend this event.