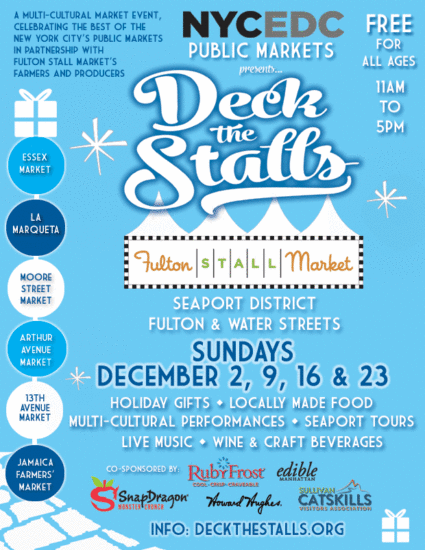 From our organizers:
Join us THIS SUNDAY from 11am-5pm in the Seaport District! NYCEDC Public Markets series "Deck the Stalls," continues December 9th, 16th, and 23rd!
Fulton Stall Market hosts this special holiday market featuring live music, multi-cultural performances, locally made food, NY wine and craft beverages for sample and sale. Plus, there's a rotating lineup of guest public market vendors, in conjunction with the regular Sunday farmers market.
While you're there, take a discounted tour of the historic ships in the Seaport District or visit the South St. Seaport Museum. Get info from EscapeMaker.com about visiting vendors and producers at their regular public market locations or in the Sullivan Catskills upstate.
Shoppers will also get an exclusive tasting of two new
New York State apple varieties just unveiled to the public: Snapdragon and RubyFrost apples!
Edible Manhattan will be there with our latest issue for free pick up, so come down to Fulton Stall Market in December and help us celebrate the best of NYEDC Public Markets!
The event is FREE for all ages!