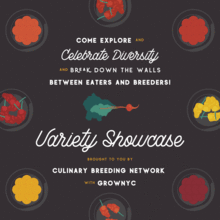 From our organizers:
The Culinary Breeding Network and GrowNYC are partnering to bring the VARIETY SHOWCASE to Project Farmhouse in New York City on Monday, September 24, 2018.
The VARIETY SHOWCASE is an interactive mixer to build community between plant breeders, organic farmers and eaters where attendees have the unique experience to taste new and in-development vegetable, fruit & grain cultivars with the breeders that created them, share opinions, talk about needs & preferences and learn about the importance of organic plant breeding.
The event is a series of tables featuring plant breeders with an example of their breeding work. The tables provide attendees with a tangible example of the bio-diversity being created with organic production and flavor in mind. Each breeder is paired with a chef that creates a dish that highlights the breeding project and samples are tasted by attendees.
The ticketed, indoor Variety Showcase NYC will be held at two times – DAYTIME (12:00 – 3:00 pm) and EVENING (5:00 – 8:00 pm). Please note there are different breeders and chefs at each time. Additionally, there will be interactive and educational tables at a free, public outdoor space 2 blocks away at the Union Square Greenmarket from 11:00 am – 6:00 pm.