Every budding business owner has to start somewhere, but where is that starting line?
We've gathered a panel of experts to share their stories about getting started in the food world. They'll offer up their time and wisdom to answer your burning questions. FREE for print subscribers!
Featuring:
Cater2.me – Cater2.me is a vessel for delivering the best hand-selected food providers to office spaces for lunch.   Each delivery is customized to the client's preferences and delivered on-time with top notch service.
Empire Mayo – Founded in 2011 by chef Sam Mason and designer Elizabeth Valleau, Empire Mayonnaise offers exotic mayonnaise made exclusively in Brooklyn with non-GMO oils and NY local, cage-free, pasture-raised eggs.
Fare Trade NYC – Fare Trade NYC has created a community for artisanal food businesses where resources can be shared and valuable industry information can be exchanged.
Daniel C. Marotta, Esq. – Daniel C. Marotta is a trademark and business law attorney with over 20 years experience in intellectual property matters, LLC's, start-ups and investor financing.  Dan's clients include restaurants, franchises, wine labels and craft distillers, and he teaches Licensing of Intellectual Property at NYU.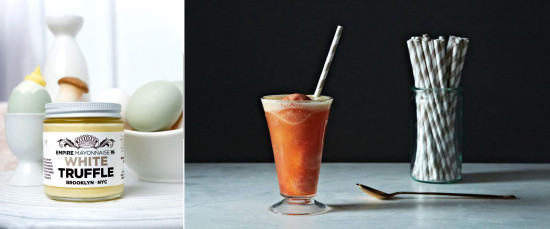 Photo credit: Facebook / Empire Mayonnaise & Facebook / Cater2