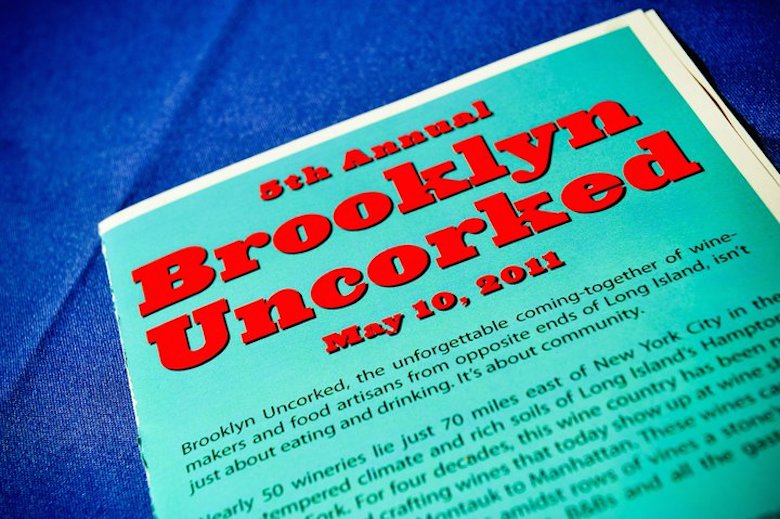 GRAB YOUR TICKET BY MARCH 15, AND SAVE $10. There are limited number of discounted tickets (only 100!) so act fast!
Lest we let the entire New York Metro region forget that a world-class wine country is barely two hours from its front door, we will be hosting our annual, massive sipping soiree called Brooklyn Uncorked at the beautiful BAM building in downtown Brooklyn. With help from the Long Island Wine Council, naturally.
Our original event always features the best of New York State wines, plus pairings from some of New York City's best chefs and foodmakers. Here's what's in store for your taste buds.
Among the wineries who will be pouring are: Baiting Hollow Farm Vineyard, Bedell Cellars, Bouke Wines, Brooklyn Oenology, Brooklyn Wine Co., Channing Daughters, Croteaux Vineyards, Gramercy Vineyards, Grapes of Roth , Jamesport Vineyards, Long Island Merlot Alliance, Macari Vineyards and Winery, Martha Clara Vineyards, Mattebella Vineyards, Old Field, Osprey's Dominion, Palmer Vineyards, Raphael, Roanoke Vineyards, Scarola Vineyards, Sherwood House, Shinn Estate, Sparkling Pointe, Suhru Wines , Waters Crest and Wolffer Estate. Brooklyn Uncorked was originally conceived as a way to bring Long Island wine country to the Big Apple. And it was a natural collaboration for Edible East End (with its wine community) and Edible Brooklyn and Edible Manhattan (with their communities of eaters and drinkers). So, we squeeze as many wineries into the room as we can–it's a selection you won't find anywhere else–and pair what they pour with a star-studded cast of New York City restaurants and food makers. The result is that the room is a little bit like a stroll (on foot) through a magical place where you can taste dozens of Long Island wines, from cool-climate merlots, to steely sauvignon blancs, from fruity chardonnays to varietal roses. And between sips, you get to nosh on food from the likes of: applewood, Buttermilk Channel, Cleaver Co. & The Green Table, Dressler & Dumont, Gramercy Tavern, Les Trois Petit Cochons, McEnroe Farms, Palo Santo, Red Hook Lobster Pound, Rose Water, Savoy, The Good Fork, The Vanderbilt, Vandaag.