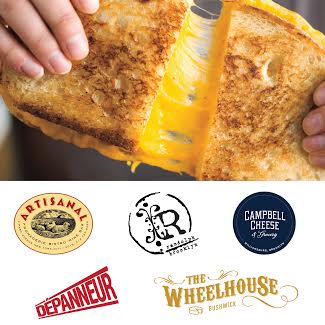 According to the organizers:
"Two days. Five of the city's best grilled cheeses. 16 oz of beer. One winner: You.
The Big Cheesy is back. NYC's only annual grilled cheese championship is a two-day weekend event to determine the King of Comfort Food. We've researched five of the most talked-about cheese wizzes from around the city and invited them to compete for the title, with you as the judge.
This year's all-star line-up of grilled cheese masters includes Artisanal (the reigning champ), Campbell Cheese & Grocery and Depanneur (both artisanal grocers from Williamsburg, Brooklyn), rustic sandwich shop The Wheelhouse, and Ends Meat. 
The Big Cheesy is April 23 + 24. Tickets are $30 and you'll get one hour to sample and discuss all the creative recipes, celebrate the classic American sandwich, and then vote for your favorite. Every ticket holder will get a tasting of each of the five grilled cheeses and two ice-cold Goose Island drafts.
Bonus! 5% of the profit from The Big Cheesy ticket sales will go to Food Bank For New York City to support hunger-relief."