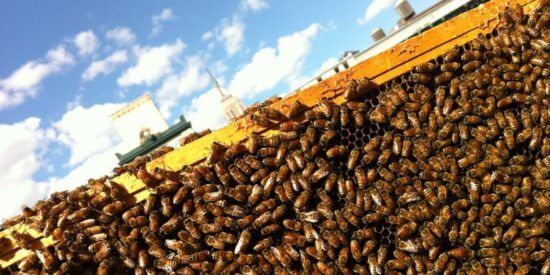 From our organizers: 
Now Enrolling for NYCBA's Beekeeping 101 Course!
For the thirteenth year, our ever popular beekeeping for beginners course is back for 2019!
Learn how to invigorate your vegetables and fortify your flowers (and those of the neighborhood) while contributing to the environment and ensuring yourself as much as 100 lbs of pure raw honey per year per hive. This course teaches everything you need to know to start or continue your fascinating love story with the bees. Learn about this fulfilling and rewarding hobby. Become a beekeeper. It is easier than you may think, and more rewarding than you might imagine.
This course is taught in a state of the art smart classroom replete with five oversized screens, Internet, with images, films, equipment, small field trips, and with several expert volunteer beekeepers as your instructors.
This course will teach you everything you need to know to safely start and maintain a beehive in an urban environment. You won't be a seasoned expert, but you will know enough to get started.
This class is appropriate for the person who wishes to keep bees in a countryside setting, a city rooftop, or the suburbs. This course will be informative, fun, education and worth the time of someone merely wishing to learn more about honeybees and beekeeping.
This course is required for those who wish to apply for the 2019 NYCBA Urban Beekeeping Apprenticeship, which begins the first day of this course. Information about that is located on our website, www.bees.nyc
Location will be at the NYIT Department of Hospitality Studies, New York (Manhattan) on the Upper West Side. The exact address is 16 W61st Street. This is just west of Broadway on the south side of the street. The room number is forthcoming.
This 12-hour course extends across four Saturdays from 10AM – 1PM.
The dates are January 26th, February 9th & February 23rd, and March 9th.
This is a theoretical class. We won't be working with live bees. It's winter, the bees can't fly around.
There are no make-up classes if you miss any, sorry. Refunds are available up to 30 days prior to the start of the class.
Questions? Ask! info@bees.nyc