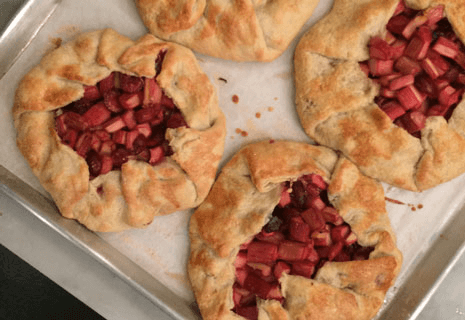 From our organizers:
A pie is not defined by a 9 inch round pan. It does not have to be too sweet. It should be able to be assembled with the most basic of tools and simple ingredients. Together we will break down the barriers to making pie dough using only our hands, a measuring device and a rolling pin (or wine bottle in a pinch!). With our hands we develop a deeper understanding of the interaction between the four simple ingredients: flour, butter, water and salt. Students will create freeform sweet and savory pies and explore the versatility of this dough as we take it from from breakfast treat to dinner plate to dessert highlight.
A savory slab pie will be assembled and served as dinner accompanied by a fresh salad. Folks will walk away having made savory galettes, sweet handpies and will take home a small piece of dough for future use.
Chicken Pot Slab Pie
Seasonal Salad
Savory Galettes
Fruit Hand Pies