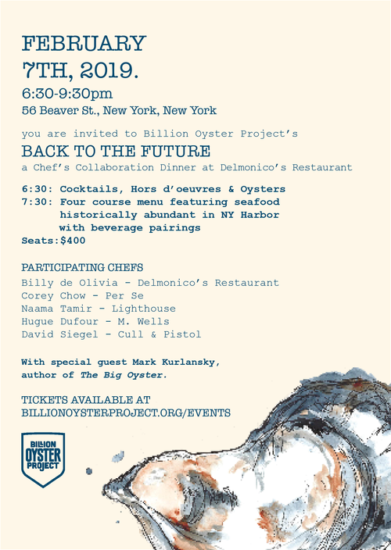 From our organizers:
Billion Oyster Project's Back to the Future event is a chef collaboration dinner at Delmonico's Restaurant for an exclusive 100 guests. This culinary experience will feature chefs involved in our Shell Collection Program including Chef Corey Chow of Per Se, Chef Billy Olivia of Delmonico's, Chef Naama Tamir of Lighthouse, Chef Hugue Dufour of M. Wells, and Chef David Seigal of Cull & Pistol. We're also pleased to welcome Mark Kurlansky, author of The Big Oyster, as our special guest speaker.
The 4-course menu for the evening will showcase seafood that currently is or was, at one time, abundant in New York Harbor. While the seafood will not be sourced directly from New York Harbor due to its current health, the menu will highlight the incredible diversity and abundance that the Harbor once had. The evening's program will cover the diverse reasons that New York Harbor isn't in peak health, the history and ecology of oysters in New York Harbor, how pollution has affected New York Harbor as a food system, and what the future of New York Harbor might look like with billions of oysters and millions of people working together to restore its health.
We look forward to welcoming you at Delmonico's Restaurant, America's first restaurant with deep historical culinary roots tied to New York Harbor in its heyday.