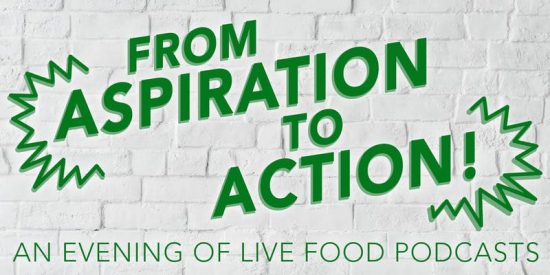 From our organizers:
A live podcast event featuring stories of the good, the bad, and the transformative from Dana Cowin, Eli and Max Sussman, and Alison Cayne.
Join food world insiders for a special live podcast event presented by Heritage Radio Network at Haven's Kitchen in Manhattan.
Have you ever wanted to open a restaurant? Launch your own food brand? Or dive into the ever-changing world of food media?
Well buckle up, as the night's hosts Zahra Tangorra and Bretton Scott lead us through tales of the good, the bad, and the transformative from food world innovators: Dana Cowin, Eli and Max Sussman, and Alison Cayne in conversation with Jeni Britton Bauer.
Light refreshments generously provided by: Paris Gourmet, Wölffer Estate Vineyard, and Tahoney.
Dana Cowin, host of Speaking Broadly and former long-time Editor-in-Chief of Food & Wine, is a well-respected tastemaker, talent scout, author, and lecturer. She has a robust consulting business, working with companies from Neiman Marcus to Dig Inn. When Dana is not traveling for her podcast, giving advice to businesses on branding, giving career advice at places like The Wing, she devotes her time to organizations she cherishes, including serving on the boards of City Harvest, Hot Bread Kitchen, and the Food Education Fund of Food & Finance High School.
Michigan born brothers Eli and Max Sussman, are the co-chef/owners of Samesa Restaurant & Catering with locations in Manhattan and Brooklyn. They launched a new company called Tahoney in April of this year, a sweet, but not too sweet spread, already carried in over a dozen stores. Max was the chef at Roberta's pizza when the restaurant received two stars in a glowing NYTimes review. Eli, who is also the host of theLINE, previously served as the Executive Chef at Mile End Deli. Both brothers were nominated for the James Beard Rising Star Chef Award. They were selected as 2012 Zagat NYC's "30 under 30" and Max was named a 2011 Forbes "30 under 30". The brothers have co-authored four cookbooks, made frequent appearances on The Today Show, and their writing has been published in SAVEUR, Food & Wine, and Bon Appetit. Their restaurant, Samesa has been an employment partner of GET OUT STAY OUT and Hot Bread Kitchen, proudly identifying as a sanctuary restaurant committed to a zero tolerance workplace free of sexism, racism and xenophobia. Samesa was selected to be a new vendor at the re-opened Essex Market on the Lower East Side, partly based on its responsible business practices and community engagement, from amongst dozens of applicants.
While working towards a master's in food studies at NYU, Alison Cayne, host of In The Sauce, became inspired by activist and teacher Joan Gussow. Cayne focused her efforts on educating people about the importance of an equitable, environmentally sound food system and our role as consumers, voters, and cooks within that system. In January 2012, she opened Haven's Kitchen, a cooking school with café and private event space, with the hopes of advancing the ethos of education, sustainability, and integrity. Alison is committed to promoting good food policy and community activism and serves on the board of Edible Schoolyard NYC, Just Food and the Food and Environmental Reporting Network. She has written for Huffington Post, USA Today and Domino Magazine, and has been featured in publications such as The New York Times and Vogue. Alison is a lecturer at The Institute of Culinary Education and New York University Food Studies Program. The Haven's Kitchen Cookbook debuted in Spring 2017. A born-and-raised New Yorker, Ali lives in the West Village with her five children and their dog Ivy.
Co-hosts of Life's A Banquet, Bretton Scott and Zahra Tangorra met while working at Zahra's former Brooklyn restaurant, Brucie, in 2012. Both lifetime lovers of all things culinary, the two formed an instant bond over plum glaze and pet nats. Bretton has worked at just about every great restaurant this side of the rocky mountains, and Zahra continues to work as a restaurant consultant and caterer. They have both been through their fair share of highs and lows over the years, and that's why they began their podcast. In today's highly aspirational food culture, for their podcast they draw from their personal experience in the industry and beyond, as well as from the interesting stories they unpack each week, to remind listeners that the world can be your oyster even when you aren't draped in pearls.
Haven's Kitchen is a cooking school, café, venue, creative agency, and social hub. Oh! And they have a line of sauces, too! It all revolves around one goal: Empower people through innovative food experiences.