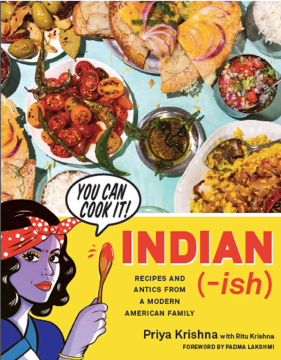 From our organizers:
Les Dames d'Escoffier NY Chapter invites the New York food community to celebrate Priya Krishna's acclaimed new cookbook "INDIAN-ISH" (Houghton Mifflin Harcourt) on Monday, June 3rd, at Saar Indian Bistro (241 West 51st St) from 5:30 to 7:30 p.m. General admission tickets are $50 and may be purchased at ldny.org.
Priya, a contributor for The New York Times, Bon Appétit and The New Yorker, will be interviewed by well-known television personality and World Gourmand cookbook author of 40 food books, Rashmi Uday Singh, in a spirited conversation about what it means to transform the tastes and memories of Indian cooking in America.
Michelin-star Chef Hemant Mathur will serve a selection of hors d'oeuvres reflecting the multi-cultural aspects of India, accompanied by La Caravelle Champagne. Priya's book, named one of the "Best Cookbooks of Spring 2019" by The New York Times, will also be available for sale by Kitchen Arts & Letters.
A portion of the proceeds will benefit Les Dames d'Escoffier NY Chapter Scholarship Fund, supporting the career advancement of women in the food, fine beverage and hospitality industries.