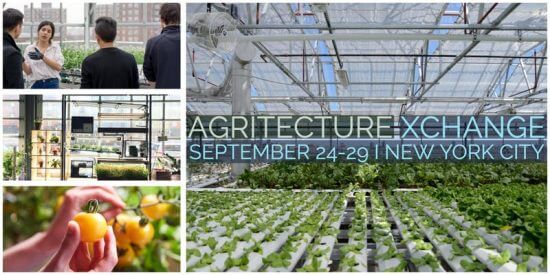 From our organizers:
Join Agritecture and AgTech X for a curated week in New York exploring agriculture's role within the Sustainable City movement.
*See below for full agenda + individual event links!* ***See Agtech website for full details**
Agriculture is experiencing a cultural renaissance in urban centers around the world. But even as urban agriculture blossoms, it still remains a novel idea within the Smart City and Green Business movements.
At Agritecture and AgTech X, we believe the conversation around urban agriculture is too isolated. With Agritecture Xchange, we seek to broaden that dialogue with a week of educational events and knowledge sharing.
We are bringing together entrepreneurs, architects, city officials, investors, and researchers to learn about how agriculture fits into the larger themes of sustainability and the urban environment. The week will feature morning and evening workshops, speakers, networking events, and tours of local urban farms.
Individual event tickets are being released on a rolling basis – see below for links to those pages. We also have a limited number of Sponsorship Opportunities and All-Access Passes remaining, available for immediate purchase. These include access to all events Monday-Friday, complementary co-working space in between events, and 50% off Saturday's Commercial Urban Farming Course taught by the Agritecture Team (a $250 value).
SCHEDULE
Monday, 9/24
Welcome Breakfast | 8:30-10:30a
*Sponsors + All-Access Pass holders only
Welcome Address from Agritecture and AgTech X founders on Urban Agriculture's fit within the broader Sustainable City movement
Presentation from AgTech X co-working members C. Mike Lindsey and Wythe Marschall
Tour of Urban Agriculture in North Brooklyn | 10:30a-12:45p
A tour of 4 sites that integrate urban farming with varying forms and objectives.
A speaker series with entrepreneurs fighting food waste on all points along the technology spectrum.
Tuesday, 9/25
The Current State of Urban Agriculture in NYC | 8:30-10:30a | Hunter College
Henry Gordon-Smith will share lessons from his "40 Days of Agritecture" 3-continent urban agriculture tour, followed by a panel featuring leading NYC Urban Agriculture organizations and moderated by Charles Platkin.
Investing in a Local Food Economy| 6:00-8:00p
Does urban agriculture support, or compete with, a stronger local food system? What opportunities exist for entrepreneurs and funders to bridge gaps? We'll hear from a panel of experts investing in projects across urban, peri-urban, and rural areas.
Wednesday, 9/26
Designing Smarter Food Systems: Rapid Workshop Series | 9:00a-1:00p
Geospatial Thinking for Agroforestry Systems
Ecological Design for Agriculture
GIS for Local Food System Planning
Make It In Brooklyn – AgTech & Food Innovation Pitch Contest | 6:00-8:00p
In collaboration with the Downtown Brooklyn Partnership, 5 leading AgTech startups will pitch their concepts to judges and a public audience.
Startups can apply today!
Thursday, 9/27
 How Can the Future Food System Fit Into a Circular Economy | 9:00-11:00a
A panel discussion with leading circular economy innovators.
Sunset Sips: Brooklyn Grange Rooftop Mixer & Happy Hour | 6:00-9:00pm
Rooftop networking, cocktails and hors d'oeuvres at Brooklyn's most iconic rooftop farm! Includes a brief speaker series with local officials and sustainability leaders.
*USE CODE: AGRITECHSIPS FOR $10 OFF*
Friday, 9/28
 Agritecture for Architects: A Design Charrette| 9:00-11:00a
With leading green designers & builders around New York.
 Navy Yard Innovation Tour | 3:00-5:00p
A tour of Brooklyn's most exciting urban industrial development, The Brooklyn Navy Yard. Tour urban farms, hardware incubators, and smart buildings.
Agritecture Xchange Happy Hour Finale | 5:00-7:30p
Student presentations by Cornell University summer interns working on urban agriculture in NYC; a panel featuring AgTech X Co-Lab members; and a discussion on key takeways from the week.
Saturday, 9/29 [All-Day Partner Events]
Commercial Urban Farming Course | 9:00a-5:00p | $500 (All-Access Pass holders receive 50% discount)
With Agritecture Consulting
Climate Reality Event at Governors Island | 11:00a-5:00p | Free
With a workshop led by AgTech X
SPONSORSHIP BENEFITS
Chief Sponsor ($6000)
3 All-Access Passes
3 Co-Working Passes
Featured brand placement on all marketing material
Custom promotional interview/article to go on Agritecture and AgTech X blogs
10-minute presentation slot at Monday's exclusive Welcome Breakfast
Brief speaking opportunity at Friday's Happy Hour Finale
Invitation to the Agritecture Influencer Slack
Gold Sponsor ($2500)
2 All-Access Passes
2 Co-Working Passes
Brand placement on all marketing material
Interview and article to appear on Agritecture Blog
5-minute presentation slot at Monday's exclusive Welcome Breakfast
Invitation to the Agritecture Influencer Slack
Brand Sponsor ($500) – best option if you can't attend full week.
Brand placement on the website
A link of your choice on the Agritecture Xchange website
We will play a video of your choice (up to 2 mins) at one of our main events
Invitation to the Agritecture Influencer Slack
Discounts on individual event tickets