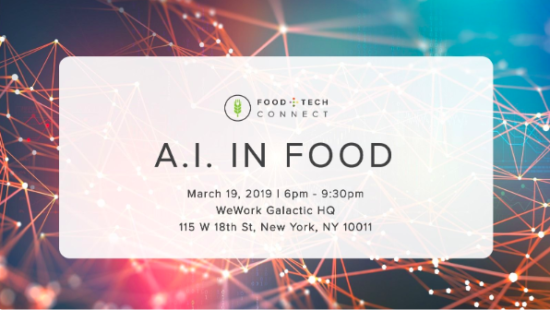 From our organizers:
Artificial intelligence and machine learning algorithms promise to transform the food industry. Innovative startups are leveraging these technologies to change the way we produce, distribute and consume food — from early plant disease detection to streamlining product development and consumer insights. What is A.I.? How does it actually work? How are companies leveraging it and why?
Join us to hear from CEOs and COOs of companies that are building intelligence platforms from the farm to plate at our March Food+Tech Meetup, A.I. in Food. Founders will do a deep dive into their business models and technologies. We will also have networking with the community and lots of great food and drinks to sample from Bad Apple Produce, Artisan Revere, Silly Chilly Hot Sauce, Element Farms, Oswald Co + More
Have an innovative product you'd like to share? Apply through our application here: https://bit.ly/2AXzYHa
SCHEDULE:
6 – 7:30pm: Networking + Company Showcase
7:30 – 9pm: Presentations + Q&A
9pm – 9:30pm: Networking
PRESENTERS:
Alon Chen, CEO & Co-Founder, Tastewise
Tastewise leverages AI to tap into the culinary consciousness that drives the world's freshest food and beverage insights. Our platform analyzes billions of food data points to provide real-time insights for restaurants, hospitality groups, and food brands. Tastewise equips industry professionals to identify target segments and competitors, understand emerging trends, and determine which dishes or products should be served next. A senior Google executive for close to a decade, Alon Chen has a wealth of experience in leveraging AI and big data across technology, business and marketing. During his time at Google, Alon initiated and launched the Google Partners channel program in 27 countries, on-boarding 60,000 partners worldwide. Alon also served as Google's Chief Marketing Officer for Israel and Greece and led the company's relationship with the World Economic Forum. As Chief Business Officer for Voyager Labs, an AI and cognitive deep learning company funded by Oracle, Alon developed and led their AI marketing-tech eCommerce solution.
Riana Lynn, Founder, Journey Foods
Riana is the founder of Journey Foods, an AI-powered platform that helps support new product development and nutrition precision. It is creating the future of nutrient consumption through software that supports smarter R&D and efficient, data-driven production of plant-derived snack foods. Its first product line focuses on re-imagining fruit snacks and adding functional ingredient complexes to target immunity, digestion, energy and brain function. A biologist turned serial entrepreneur, Riana has developed high-growth, nationally recognized technology, and food businesses. Her accomplishments have been featured on CNBC, Forbes, USA Today, Wired, TechCrunch, Entrepreneur Magazine, among others.
Chris Chan, Chief Operations Officer, Farmwave
Chris Chan is the COO of Farmwave, a company that is transforming the world's agricultural information into AI data models to power decision-making and preserve the future of farming. As Farmwave's human Swiss Army knife, Chris leverages his experience in nonprofit management, technology consulting, and startups to facilitate ideation, develop strategy, and support product development. His efforts support the entire company, but he works most closely with the marketing, design and business development teams.
PARTNER
WeWork Labs is WeWork's global innovation platform that supports early-stage startups and corporations seeking to transform their industries. Through our range of services, resources, and networking opportunities for early-stage startups, accelerators, incubators, VCs, and larger corporations, we create and empower an ecosystem of innovation open to anyone with a vision where the next generation of entrepreneurship can grow.