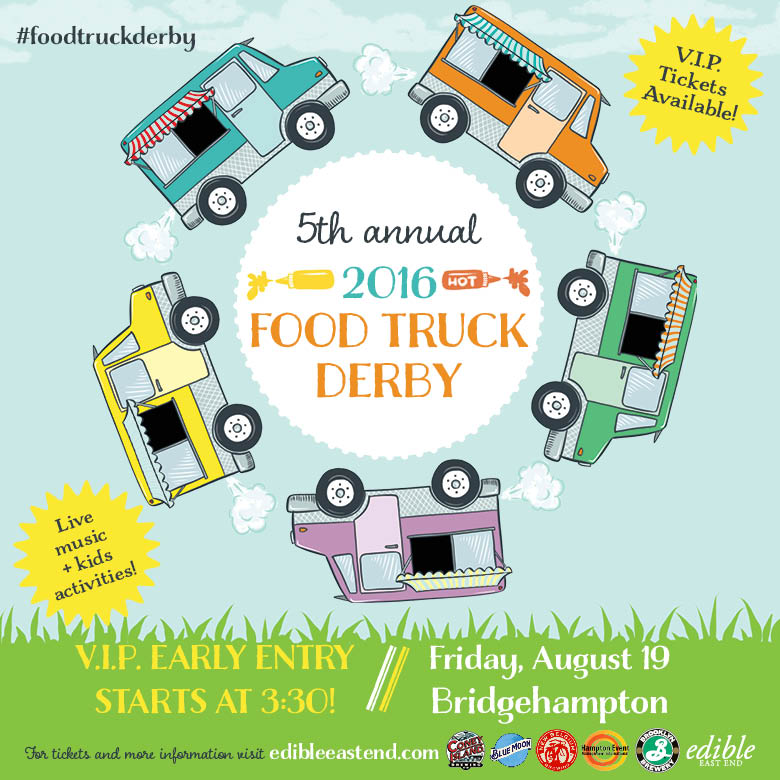 ***RAIN OR SHINE***
THERE WILL BE LIMITED TICKETS AVAILABLE AT THE DOOR.
The Great Food Truck Derby is back! Bring the whole family for a bonanza of ethnic and mobile eats rarely seen on the East End, when a caravan of New York City and Long Island food trucks park amidst potato fields at the Hayground School, alongside New York wine and beer and non-alcoholic drink offerings. Ticket price includes one serving at every food truck and three drinks for adults, and four truck tastes and one drink for children. The food truck coming together will coincide with the Hayground School Community farmers market and programming for kids and families. And the event will benefit the Hayground schoolyard projects in the region, which provide culinary arts training for local kids.
This year, VIP tickets available! Get 1/2 hour early access to trucks, limited to 100 tickets, to get to your favorite trucks first!
Featuring…
Food from: Blondies Bake Shop • Chiddy's Cheesesteaks • Eat Me Drink Me • Pizza Luca • Rolling Smoke Grill • The Sea Bean Natural Food Co. • Hampton Coffee Co. Mobile Espressio Unit • Nice Buns Slammin Sliders •  Whole Le Crepe • Noah's on the Road • The Inn Spot…Out! • Elegant Eats •  Anewyoricanthing • BynumOnWheels – Hush Bistro Food Truck • Chiki-Wawa • CYNFULFOOD Catering

Beverages from: Brooklyn Brewery • Bruce Cost Ginger Ale • Sweet'tauk Lemonade • Wölffer Estate Vineyard • GuS – Grown-up Soda • Wainscott Main Wine and Spirits  • Manhattan Beer Distributors 

Passed snacks from: COPIA Granola • Old School Favorites • Rob's Brands 

Entertainment from: The Shockwaves • Blocks, Trucks + Art
*** Check out what is on the menu here ***
Unfortunately we cannot allow dogs at the event. It is a closed loop circle with a lot of people, food, kids and activity going on. While we are sure that yours, and most dogs, would be able to behave properly, it's one of those rules that we need to apply uniformly to the event.

Be sure to arrive on time. Food from all trucks cannot be guaranteed after 5:30 p.m.
Join the conversation on social media by using the hashtag, #foodtruckderby
For press inquiries, please contact marissa@wordhampton.com