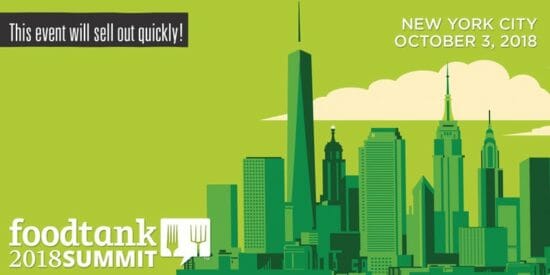 From our organizers:
***EARLY BIRD SALE: Only $199 and no application is needed! Sale for first 200 tickets only!***
Food Tank, Natural Resources Defense Council, New York University, Hunter College, ReFED, and The Rockefeller Foundation are excited to announce the second annual NYC Food Tank Summit! The theme for the Summit is "Focusing on Food Loss and Food Waste."
This exciting event will feature more than 30 different speakers from the food and agriculture field. Researchers, farmers, chefs, policy makers, government officials, and students will come together for interactive panels, fireside chats, and farmer spotlights.
Last year in New York the event sold out quickly with a waiting list of 1,400. An additional 90,000 watched via livestream. Don't miss this chance to book your spot!
As one of the fastest-growing nonprofit organizations in food and agriculture, Food Tank started these Summits four years ago, all in collaboration with major universities and non-profits and bringing together more than 400 speakers for discussions moderated by journalists from outlets including the New York Times, the Washington Post, the Chicago Tribune, Vice, Vox, NPR, BuzzFeed, and Bloomberg.
Breakfast, snacks, and lunch included (veg, vegan, and gluten conscious options).
For sponsorship opportunities, email bernard@foodtank.com. To volunteer, please send your resume and availability on October 2nd and 3rd to vanesa@foodtank.com with the subject line "Volunteering at the New York Summit"