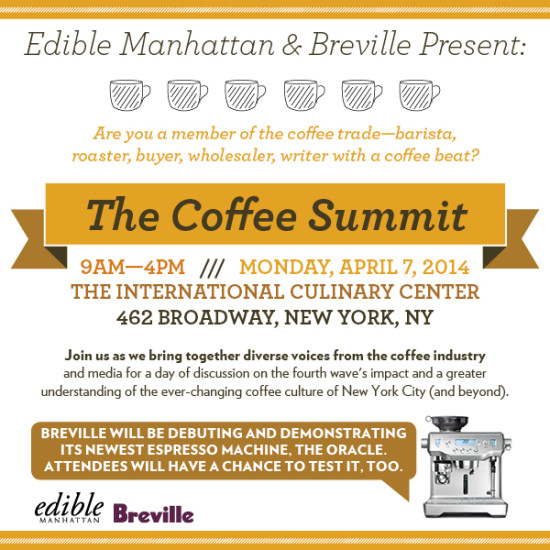 Panels include:
• "Coffee Technology: What's in the Hopper" moderated by Rich Nieto (Sweetleaf), with panelists Cora Lambert (Box Kite), Tommy Gallagher (Counter Culture),  and Ramin Narimani (Intelligentsia).
• "Micro-roasting: A New Model of Coffee Roasting" moderated by writer Oliver Strand, with panelists Steve Mierisch (Pulley Collective), Trish Rothgeb (Wrecking Ball Roasters), Ed Kaufmann (Joe), and Wille Yli-Luoma (Heart Roasters) and Dillion Edwards (Parlor Coffee).
• "A New Wave of Building Drinks" moderated by Edible Deputy Editor Amy Zavatto, with panelists Trevor Corlett (MadCap Roasters), Teresa Von Fuchs (Irving Farm), Sam Lewontin (Everyman Espresso), and Sother Teague (Amor y Amargo).
• Plus an in-depth presentation on "The Science of Espresso Extraction" by three-time United States Cup Tasters Champion, Ben Kaminsky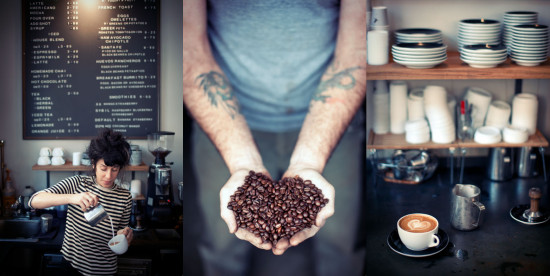 Ticket price includes access to all panels, as well as continental breakfast, light lunch and coffee from guest roasters working with the Breville Oracle Pop-Up Espresso Bar.
Bonus: Ticket price also includes entry to our caffeinated coffee-cocktail after-party at Counter Culture's SoHo Coffee Lab!
Note: This event is only open to trade and media. Non-trade registrations will be refunded.
Photo credits: Scott Gordon Bleicher