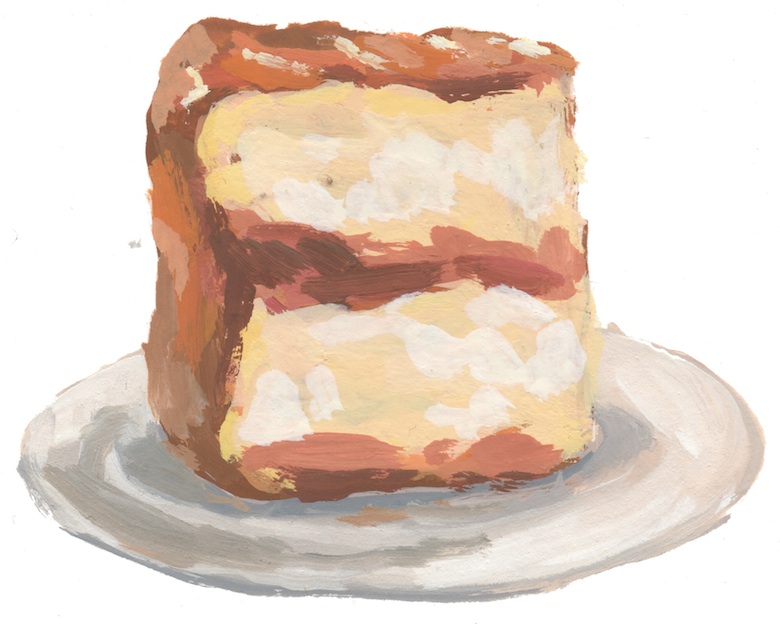 Editor's note: As we roll out our holiday issue, we're sharing personal holiday essays from some of our regular contributors. We asked an international cohort of New Yorkers to share a memory of a seasonal dish from their childhood. Read more from Dan Nosowitz below and  find a version of this cake (the closest one we could find, at least) at Breads Bakery. Also see below for Dan's dad's recipe. 
The internet killed one of my most treasured holiday traditions. And then, unexpectedly, the internet saved it.
I grew up Jewish in the western suburbs of Philadelphia, which seemed like a strange sort of in-between place for a Jew. I wasn't the only one in my class, as I would have been had I lived just a half an hour's drive further away from the city, but I also knew every single other Jew in the area since there just weren't very many of us. I was, through some combination of temperament and environment, hyper-conscious of being Jewish, of having relatives who kept kosher and of going to Hebrew school twice a week.
The Jewish apple cake is marvelous and one of my dad's specialties: a dense and moist dairy-free dessert layered with cinnamon-spiced apples and baked in a circular angel-food-cake pan. The use of that pan in particular makes for more extreme heat exposed to more of the cake, and unlike most others, the edges are the best part. They caramelize and crisp up, almost like the edges of a brownie.
My dad brought this cake to parties around apple season. He called it a "Jewish apple cake," and I began to construct a narrative for it. It includes no dairy at all, which means it can be eaten as the dessert of a kosher meal that included meat. (In place of dairy it uses an obscene amount of oil, often Crisco, which Jews, bizarrely, adore.) He brought it to the breaking of the fast after Yom Kippur. He brought it to my great-aunt's house, where she kept kosher. He brought it to Thanksgiving, a holiday my family managed to make feel Jewish through the addition of annual smoked salmon appetizers and, you know, a big room full of Jews eating together. He brought it to Hanukkah, which we celebrated with a few other Jewish families from the school district.
This, I thought, was the real shit. This was a line to the Old World Jews, the scholars and textile manufacturers who lived in the great Jewish centers of Eastern Europe, in Romania and Ukraine and Russia and Poland, before my great-grandparents fled the pogroms for New York and before my parents settled, well into their 30s, in Pennsylvania.
I placed a lot of value on that cake in my teenage years. It was a symbol of how I was different from the perfectly nice Episcopalians and Catholics and Quakers who seemed to really belong to Pennsylvania. I ignored the deep roots of Jews in my home state and chose to believe that I didn't belong there, that I was just stopping by until I landed somewhere that made more sense. That cake was the proof.
Years later, when I started writing about food, I asked my dad about the cake. Was it his grandmother's recipe? Did he know if it came from Lodz, or Bialystock or Vilna?
He laughed. That cake came from Pennsylvania, he said. He had gotten it off some recipe website maybe ten years before. Sometimes it was called a German apple cake, or a Philadelphia apple cake.
I ignored the deep roots of Jews in my home state and chose to believe that I didn't belong there, that I was just stopping by until I landed somewhere that made more sense. That cake was the proof.
I'm not sure if that was a trigger, but it began for me a new obsession with my home state. I realized that I hadn't escaped it scot-free, and I was glad about it. I had strong opinions about Wawa and Sheetz, about Yuengling and Tastykake, about hoagies and the shapes of pretzels. I began to take trips down from New York and hang out in Philadelphia a little bit more, and found that I loved it: a big city, old and absolutely beautiful, with world-class museums and food and people. I went for hikes in the foothills of the Appalachians, and got to know Valley Forge Park, a ten-minute drive from my parents' place and more enjoyable than Prospect Park, a ten minute walk from my apartment.
In writing this story, I was tasked with finding a bakery somewhere in New York that serves a good version of the Jewish, or whatever, apple cake. How hard could it be, I thought? You can get everything here, especially a Jewish baked good — and yet there are none. In the entire city. I searched, I enlisted my editor, I read archived posts from the New York Times about possible predecessors of the cake. No dice.
The cake may have first been written down in a church cookbook from Smith Island, Maryland in 1981, alongside spectacularly non-kosher items like "crab loaf." I suspect that the cake is "Jewish" in the same way that old recipes label anything stir-fried as "Chinese" or anything with corn as "Mexican," except with the weird bonus that the cake actually is easy to bake in kosher households, and, I suppose, that my actually Jewish family adopted it as our own. This, I think, is much weirder and more interesting than if the cake was a traditional recipe like kugel or ruggelach.
Breads Bakery in Union Square makes an apple cake they call a Safta. It's donut-shaped and dense and moist and contains cinnamon-spiced apples. It's very tasty! And it is not my dad's cake at all; the apples are scattered throughout the dough rather than placed in layers, the dough is stickier and less solid, and most importantly, that crisp crust is nowhere to be found. The Jewish apple cake is truly a Mid-Atlantic creation, and I'm sort of pleased that it doesn't exist in New York.

My dad still makes his Jewish apple cake every year and I've made it a few times, too. It may not be a real connection to my deep roots in Eastern Europe, but that's okay. I've never been there anyway. Pennsylvania is a place that I can and do still go to. This dessert's a true hybrid, a cake we made because we needed something kosher that also spoke to where we'd chosen to live, all based on an old church lady's (pretty accurate) guess about what Jews eat. And it's very good with ice cream.
—
Jewish Apple Cake
Makes 1 cake
3 cups flour
1 tablespoon baking powder
1 teaspoon salt
2 cups sugar
1 cup cooking oil (canola or olive oil)
4 eggs
2 1/2 teaspoons vanilla extract
1/4 cup orange juice
2 to 3 apples, sliced
1 teaspoon cinnamon
3/4 cup sugar
Mix all ingredients except apples, cinnamon and 3/4 cup sugar. Beat until smooth.
Pour half of the batter into tube pan (like an angel food cake pan).
Mix the cinnamon and sugar and sprinkle 1/4 of the cinnamon/sugar on batter.
Arrange half of the sliced apples on top and sprinkle another 1/4 of the cinnamon/sugar mix on top of apples.
Pour the other half of the batter on top before sprinkling another 1/4 of the cinnamon/sugar on batter.
Arrange the other half of the sliced apples artistically on top and sprinkle the remaining 1/4 of the cinnamon/sugar mix on top of apples.
Bake at 300 degrees for 75 — 90 minutes.
Use testing probe to make sure that it's not wet inside (can be very moist).