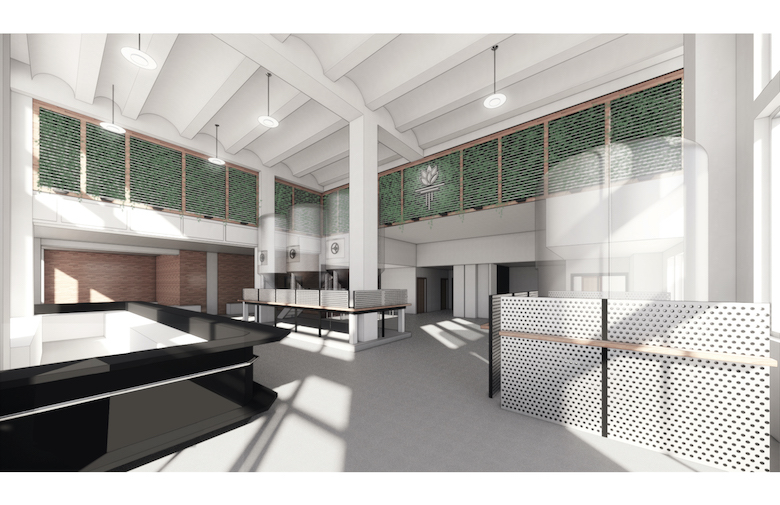 To start a craft brewery in Manhattan, you have to look down. Torch and Crown Brewing Company will open in March in Soho with a bi-level brewery: taproom and experimental tanks on the ground floor, larger production tanks and an event space two stories underground. In the case of the latter, the floor plan stretches past the taproom up to the ground under Vandam Street.
Manhattan has largely been left off the map as brewing in New York state grows to a $5 billion industry. Brooklyn and Queens are the brewing centers of the city, owing to cost as well as space. Yet in 2017, Torch and Crown co-founders John Dantzler and Joe Correia left their jobs in finance and brewing, respectively, to figure out how to make brewing in Manhattan work.
"It's important to us to get right to the center of things," Dantzler tells me over the phone. "We wanted to bring our craft production right to the heart of the city."
When the brewery opens, select taps on the ground level will be connected to conditioning tanks, and orders from the bar will pull straight from the tanks and into your glass. Torch and Crown's core line (including Almost Famous IPA and Sub Rosa Lager) will continue to be brewed at a production brewery in the Bronx, while the focus in Manhattan will be on experimentation, Dantzler says. A full menu of food will be led by Christian Papanicholas, the former owner of the beloved, now-shuttered, Cannibal.
It's been a long road to get to this point. I saw mostly construction plans and rough outlines on a visit to the site in October, and the din of construction still blared in the background as I spoke with Dantzler over the phone in January. The original opening target was summer 2019, then October.
"We looked at over 250 different places," Dantzler says. "It was a really long and arduous process, a lot of peaks and valleys."
They almost signed with a space downtown, but that was nixed by a co-op board that didn't want any food or beverage businesses. There were also spots they nearly closed on before engineering inspections found insurmountable issues. Finally, they landed on the ground floor of One SoHoSquare.
"I knew it was a matter of time before something opened up [in Manhattan]," Zach Mack, owner of Alphabet City Beer Co., says. "It's just refreshing that it's an operation of people who clearly know what they're doing, are hands-on, and appreciate and understand what's happening in beer right now."
The last big commercial brewery opening in Soho was in 1984, when Manhattan Brewing Company started operations at 40 Thompson Street — just a few blocks from Torch and Crown's present location. This was where Garrett Oliver, now the brewmaster at Brooklyn Brewery, got his start in professional brewing. It shuttered in 1995 owing to rising rent.
The challenges aren't that different today. Kevin Lillis, CEO of Hospitality Alliance, says that price per foot of real estate in Manhattan is double, or more, the cost in other boroughs. When I reached out to Tara Hankinson and LeAnn Darland, co-owners of Talea Beer Co., which contract brews with Torch and Crown and plans to open a Williamsburg brewery in 2020, they said that the consumer interest for breweries in Manhattan has "existed for years, evidenced by the number of fantastic beer bars," but prohibitively high start-up costs and a lack of suitable real estate has kept breweries from opening in the borough.
Lillis points to one major trend that could help a Manhattan brewery today, however: People are interested in knowing where their food and drinks are made. 
"Being able to offer the brewery scenario and seeing where it's coming together, it feels a lot more authentic," Lillis says.
That's one of the keys to Torch and Crown's success. While it's difficult to open in Manhattan, "there are a ton of people who really want the brewery experience" in the borough, Dantzler says. Enough people, maybe, to restart the brewing scene in Manhattan.
"New York City is a hard hometown market," Mack says, "but based on what I've seen and tried, I think they've set themselves up nicely to succeed here."