Foodie-Music Themed Edible Pursuit at The Brooklyn Brewery
Dates:

Thursday, December 9th 2010, 12:00am - Thursday, December 9th 2010, 11:59pm
Venue:

The Brooklyn Brewery
Address:

79 N 11th St,

,

Brooklyn, 11211-1913

,

United States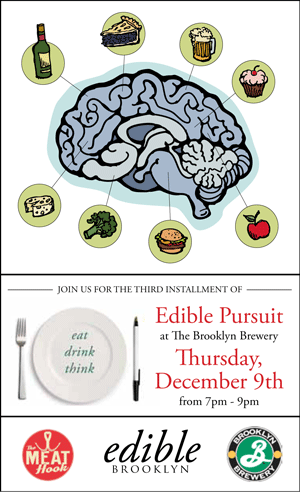 Calling all know-it-alls!!!
Are you ready to put your foodie brain to work and play the trivia game that's stumping super-foodies from coast to coast?
Join us for the third installment of
Edible Pursuit at The Brooklyn Brewery
Thursday, December 9th from 7pm – 9pm
Your $20 ticket gets you (2) Brooklyn Brewery Beers, a tasty meat treat by The Meat Hook and (3) rounds of music inspired by food trivia! Trivia goers will answer questions about music about food by writing down answers called out, naming video clips or recognizing music snips.