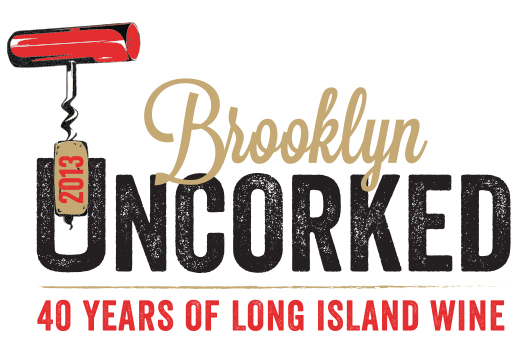 ***General Admission tickets are now sold out, but there are still a few VIP tickets available.  Get them while they last!***
Sure you could spend the evening of Wednesday, May 29, at home with a glass of wine and a plate of food, OR you could join us at Brooklyn Uncorked, sauntering around the incredible Skylight One Hanson, sipping from a wide assortment of award-winning Long Island wines and feasting on some of the finest fare in Brooklyn (and Manhattan).
Take your Brooklyn Uncorked experience to the next level in our VIP section.  This ticket gets you a tasting of special selections celebrating 40 years of Long Island winemaking, a subscription to the Edible magazine of your choice (Brooklyn, East End or Manhattan) which includes membership in the Edible Members Program, a special 20% off cheese for a year card from Stinky Bklyn, a jar of Spoonable LLC's tasty caramel sauce, Bruce Cost Ginger Ale and more.
Be sure to stay tuned to our Facebook and Twitter pages for menu and wine leaks from the participating vendors below.
Restaurants
Allswell • Cleaver Co. & The Green Table • Cookshop • Five Points • Fonda • Good Restaurant • Gramercy Tavern • Hundred Acres • Hunter's • iCi Restaurant • Jimmy's No. 43 • Marco Polo Ristorante • Northeast Kingdom • Osteria Il Paiolo • Palo Santo • Pescatore • Red Gravy • Rose Water •  Runner & Stone • The Good Fork •  The Vanderbilt • Watty & Meg
Wineries
Anthony Nappa Wines • Bedell Cellars Winery • Bouke Wines • Brooklyn Oenology Winery • Channing Daughters Winery • Clovis Point Wines • Coffee Pot Cellars • Gramercy Vineyards • Jamesport Vineyards • Lieb Cellars • Macari Vineyards • Martha Clara Vineyards • Mattebella Vineyards • McCall Wines • One Woman Wines and Vineyards • Osprey's Dominion Vineyards • Palmer Vineyards • Pindar Vineyards • Raphael Wine • Roanoke Vineyards • Sannino Bella Vita Vineyard • Scarola Vineyards • Sherwood House Vineyards • Shinn Estates Vineyards and Farmhouse • Sparkling Pointe • SUHRU Wines • T'Jara Vineyards • Wolffer Estate Vineyard
Food and Drink Artisans
ALC Italian Grocery • Brooklyn Cured • Bruce Cost Ginger Ale • Eméché Cupcakes • Grace Hightower & Coffees of Rwanda • Greyston Bakery • Les Trois Petits Cochons • McClure's Pickles • Murray's Cheese Bar • Orwashers Bakery • Q Drinks • Stinky Bklyn • The Chocolate Room • Spoonable  • Whole Foods Market
Non-Food Partners